Location
We are located at 1249 W. El Camino Real, at the corner of W. El Camino Real and S. Shoreline Blvd, (which is called Miramonte Ave south of W. El Camino Real). We are on the North-West corner in a small shopping center.
Look for our pink sign and pink building.
Hours
11 AM - 10 PM daily

Phone
(650) 940-9831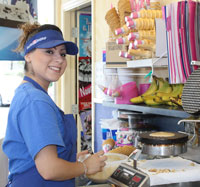 We always have a supply of freshly-baked waffle cones, plain or dipped in chocolate with sprinkles or nuts. Come in for a refreshing ice cream today!