Your one-stop shop for all your cake needs!
Mountain View Baskin Robbins has the largest selection of ice cream cakes, pies, and rolls in the area - in stock, available right now. All the best flavors like oreo cookies, chocolate, vanilla, mint chip, strawberry and more. We are famous for the high quality of our ice cream cakes.
More about our ice cream cakes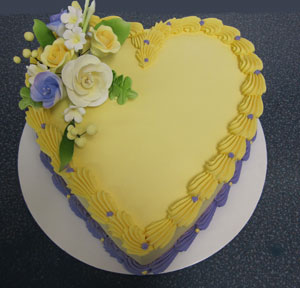 Cake styles available:
Photo Cakes
Character Cakes
Custom Designs
Corporate Logos
Heart Shapes
Ice-cream Roll Cakes
Ice-cream Pies
Two-person Cakes
Large group cakes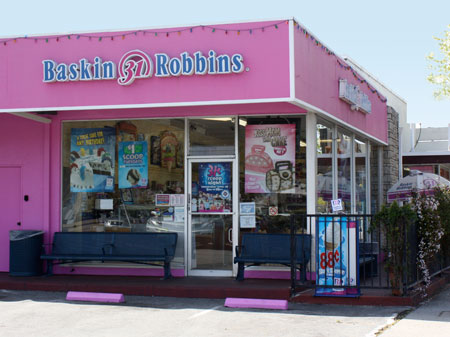 Baskin Robbins Mountain View is located at 1249 W. El Camino Real, at the corner of Shoreline Blvd. We service the San Francisco Bay Area, including Mountain View, Sunnyvale, Los Altos, Palo Alto, Santa Clara, San Jose and Cupertino.
Hours: 11 AM to 10 PM daily.
Holiday Hours
NEW: Use your FiveStars rewards card to get free ice cream in our shop! This rewards program replaces all the punch cards in your wallet with one central rewards database you can use all over the Bay Area.
Our "31 Flavors" ice cream shop provides all of your ice cream needs, from cones and sundaes to custom ice cream cakes and catering for parties and corporate events.
We have the best selection of your favorite ice cream flavors such as chocolate, oreo cookie, vanilla, strawberry, and mint chip plus Baskin Robbins special flavors like gold medal ribbon, jamocha almond fudge, and many more.
Enjoy our delicious premium ice cream sundaes, classic ice cream sundaes or our tasty waffle bowl ice cream sundaes - served up in a freshly baked waffle bowl. Or, let your imagination run wild and build your own!
Every Tuesday night is Family Night. Come in between 6pm and 10pm for discounted ice cream cones.
Like our facebook page for the latest specials and events:
Schedule your next party with us and make it special! We cater all kinds of events from birthday parties to corporate events, for both kids and adults. We have many different options for what to serve. Available throughout the San Francisco Bay Area and San Jose area.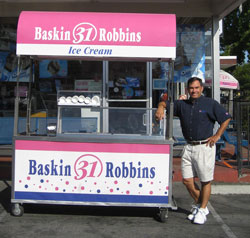 Visit our catering page to find out more.
We can also serve ice cream at a fundraiser for your school, team, or charity. We donate 20% of the proceeds back to your group.
Latest News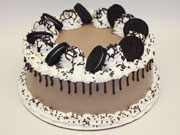 NEW! You can order your ice cream cake online. Your order goes directly to our shop. Select your flavor, color, message, and pickup time from our online ordering system.
BRight Choices
Whether you're looking for fat-free, no sugar added (sugar-free), dairy-free or light treats, Baskin-Robbins' new BRight Choices® flavors offer a choice that is right for you. Look for the BRight Choices® star in our store to find your new favorite flavor of ice cream or yogurt. We carry a wide selection!